Business Times, Monday, 20th Feb 2012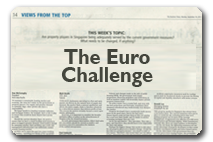 The Euro challenge. How serious is the current eurozone crisis, and how could it affect businesses in this region? What do Singapore companies, particularly those in your own industry, need to do to protect themselves?

THERE appears to be growing concern about the threat of the eurozone crisis escalating. Singapore companies with business interests in the eurozone should pay close attention to the situation as it unfolds, take stock, and draw up necessary contingency plans based on various scenarios that may occur.
The recruitment industry here is generally less exposed to the eurozone crisis except for cross-border executive search assignments in which our clients want to import high-level talent from the eurozone into Singapore. Indeed, we may see more talent from Europe wanting to move to Asia where greater opportunities abound.
Ronald Lee
Managing Director
PrimeStaff Management Services Pte Ltd