Business Times, Monday, 21st May 2012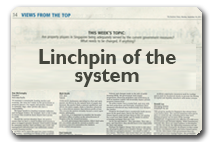 What is the CEO's role in applying technology to enhance and even transform the workplace? How can the CEO ensure that there is meaningful conversation, and not a disconnect, between management and the technologists tasked with implementing the change?
IT is imperative that the CEO constantly seeks new technologies to improve productivity as the latter has a direct relationship with, and ability to boost, the company's revenue. This can be done either through the Chief Information Officer or by assigning a special taskforce to look into this area. To ensure that there is meaningful dialogue between management and technologists, the CEO needs to bring together both groups to foster understanding. The broad business objectives of why the change in technology is needed have to be communicated to both sides: what the organisation hopes to achieve in terms of improvement to business processes. This will require technologists to have some understanding of the workflow of the other departments in question.
At PrimeStaff, for example, we recently spent a six-figure sum to overhaul the entire IT infrastructure including the purchase of an Enterprise Resource Planning (ERP) software that cut down our Recruitment Consultants' administrative work by 50%; time which they can now channel towards ensuring clients' satisfaction and generating more revenue for the company.
Ronald Lee
Managing Director
PrimeStaff Management Services Pte Ltd