Straits Times Recruit, Monday, 30 Nov 2011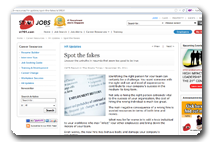 Spot the fakes
Uncover the untruths in resumés that seem too good to be true

Identifying the right person for your team can certainly be a challenge. You want someone with the right skill set and level of experience to contribute to your company's success in the medium- to long-term.
Not only is hiring the right person extremely vital to the success of your organisation, the cost of hiring the wrong individual is much too great.
The main negative consequence of a wrong hire is wasted resources in terms of both time and money.
What may be far worse is to add a toxic individual to your workforce who may "infect" your other employees and bring down the morale of your team.
Even worse, the new hire may behave badly and damage your company's reputation.
As such, it is imperative that you hire the right candidate. And this starts at the very beginning of the hiring process — sifting through the heaps of resumés that may come through your inbox.
It may be a tedious process but it certainly pays to invest that additional time and energy to filter out the fakes even before you give them any face time.
You are, after all, looking for a needle in a haystack — that superstar employee who will catapult your business to greater heights of success.
Why do job seekers lie?
There will always be those who like to take shortcuts in life.
In Singapore, there have been reports of job candidates using fake degrees to apply for a position — sometimes getting discovered only after they had already snagged the job.
Less extreme is the situation when job applicants pad their resumés in the hope of securing a higher pay cheque or position in the company that they are applying for.
For some people, such embellishing is a grey area but it does bring their integrity into question.
Deceitful behaviour includes inflating past salaries, overstating technical abilities, embellishing academic grades and fabricating employment dates.
Weed out the phoneys
Here are five tips to help you spot the fakes in resumés:
Conduct a thorough background check
This may sound like common sense, but when recruiters are so inundated by an avalanche of resumés, this is one very crucial step that may be sacrificed.
You should never underestimate the importance of reference checks.
Instead of accepting ex-colleagues as references, you should insist on having the candidate provide the names of their former supervisors.
Calling up the candidate's past employers will certainly give you a better insight into the person's character while allowing you to verify some of the information stated on his resumé.
Trust your gut
If something feels amiss, it might mean it really is.
Once, I was interviewing a senior candidate for a human resource director position and the person performed so well during the interview.
I had a gut feeling he was too smooth so I conducted my own reference check and my suspicions were confirmed.
Look out for red flags
As they say, the devil is in the details.
Scrutinise the content, as the information (or lack of) that you may not pay much attention to can tip you off to false details.
Look for and question gaps in employment dates and other discrepancies.
Does it sound too good to be true?
While it is only natural for candidates to craft their resumés to cast themselves in the best light, you ought to be sceptical if what you read seems too perfect.
For instance, if the candidate's personal qualities and previous job descriptions match those in the job advertisement that you placed almost word for word, there is a high chance that the candidate may have simply "copied and pasted" it from the advertisement.
Make use of social media
Use popular social media platforms like Facebook to check if the information the candidate has supplied matches what you may find in their personal social media accounts.
Look out for background information pertaining to the candidate's education credentials and previous work history and verify that against what is listed on their resumés.
It is worth the effort
While these tips are certainly not exhaustive, they will help in filtering the phoneys from the real McCoy. They may result in invaluable savings of time and money.
Always remember, the wrong hire will cost you dearly, so it pays to scrutinise resumés carefully.
Ronald Lee
Managing Director
PrimeStaff Management Services Pte Ltd