Strait Times Recruit, Thurs, 29 Mar 2012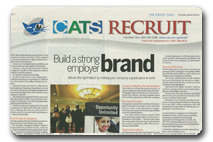 Build a strong employer brand. Seven tips to enhance your employer branding and attract the right talent

Why does someone buy Coke instead of Pepsi? What compels a consumer to purchase Colgate toothpaste instead of Oral B's? To simply put it, buying behaviour is greatly influenced by the consumer's perception of the brand.  Likewise, why would a job seeker choose to apply for aposition in Singapore Airlines instead of Qantas? It is all about employer branding; how the company is perceived by the industry has an impact on the quality of talent attracted.  Taking the time and effort to cultivate the right employer branding is important as it can be used as a long-term strategy to help attract and retain the right talent who will drive the company's growth.  You want your organisation to be seen as an attractive place to work. You want your company to be at the topmost on the list for top graduates applying for their first job. You want your employees to be proud to announce to their peers where they are working, because your company's name carries a certain amount of cachet in the marketplace.
Here is how you go about achieving all those.
■  Be at the top of your game
Develop a niche and ensure that the product or service you provide is always top-notch. Renowned for its
excellent service, Singapore Airlines holds an enviable stronghold on the premium air travel segment because it is always forward-looking, consistently offering consumers numerous 'world firsts' and unparalleled experiences throughout the years. Indeed, anyone would take pride in working for such a trailblazing organisation.
■  Be a market leader
Companies that dominate the market like Apple naturally attract top quality talent because a culture of innovation excites people and inspires success. Who does not want to be associated with a brand name that is synonymous with excitement, success and cutting-edge technology?
■  Take care of your employees
You may have heard this many times before, however, its importance simply cannot be overstated. Employees are your most prized assets. You should have genuine concern for their well-being and treat them well by offering them an inspiring working environment, and providing benefits that are good enough to brag about.
■  Convert employees into ambassadors
Following from the previous point; happy employees will not only be productively engaged but they will also be the best ambassadors who will pro-actively evangelise about their positive experiences with your company.
■  Give back to society
With organisations implementing more Corporate Social Responsibility activities and initiatives, companies around the world have increasingly developed a stronger social Conscience in recent years. One of the trends we have noticed is that more and more people wish to work in an organisation with a 'heart'; one that cares about the community and seeks ways to give back to the society rather than just focusing on its profits.
■  Share best practices
Set the benchmark that others aspire to reach – and then take advantage of every opportunity to share your best practices with clients, business associates and all who come into contact with your organisation. As word spreads, it will raise your company's profile and potential candidates will come to view your company as a great place to work in.
■ Say 'yes' to the press
Advertising may be one of the ways to boost your presence in the marketplace but getting talked about in the mass media is a sure-fire way to enhance your company's credibility. Just as how a good review can do wonders for a movie, having articles about your organisation published will also enable your best practices to be highlighted. Which job seeker would not want to work in a company that is always under the media spotlight for all the right reasons?
These seven tips may involve concerted efforts that go beyond the jurisdiction of HR. However, it is a worthy investment because a strong employer brand has the power to attract high calibre employees who will ultimately be responsible for driving your organisation's future success.
Ronald Lee
Managing Director
PrimeStaff Management Services Pte Ltd