Business Times, Monday, 17th October 2011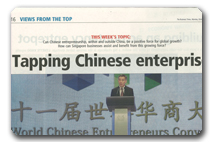 Can Chinese entrepreneurship, within and outside China, be a positive force for global growth?  How can Singapore businesses assist and benefit from this growing force?
As China's robust economic engine is set to continue driving global growth in the future, countries around the world are already recoginising the importance of removing the language barrier by learning Mandarin.
However, I believe that it is of equal importance for the Chinese to also master the English language, which is the universal language of business.  Singapore businesses should indeed position themselves to benefit from China's booming economy.  They possess management expertise and know-how that can provide immediate value-add to this growing force.
However, as they may not have sufficient knowledge and expertise pertaining to the business landscape in China, the Singapore government and/or business associations should play a greater role in providing the platform and support for Singapore businesses to move in directly or develop joint ventures with Chinese companies.
Ronald Lee
Managing Director
PrimeStaff Management Services Pte Ltd