Entrepreneurs' Digest Published: Jan/Feb 2014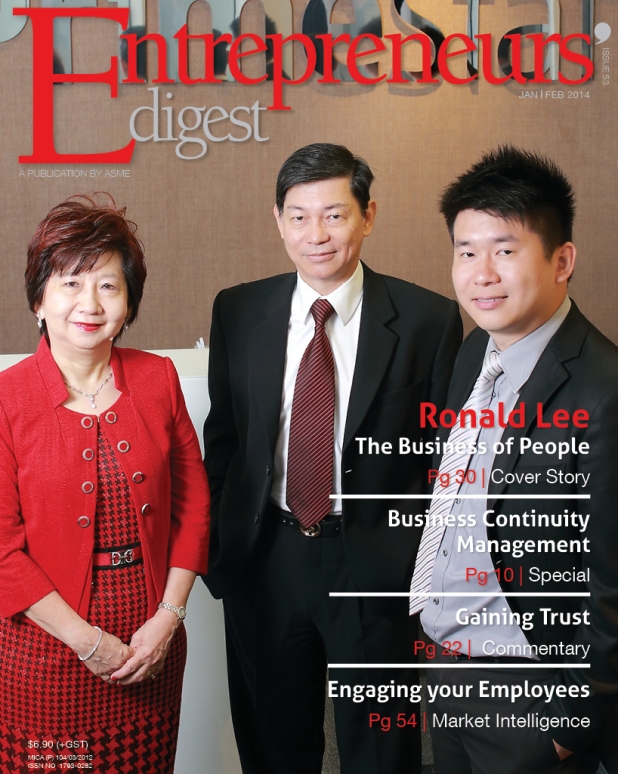 Mr Ronald Lee, Managing Director of award-winning recruitment consultancy firm PrimeStaff, practices what he preaches.
 Human resources, or HR as it is more commonly referred to, can be one of the trickiest undertakings for any company regardless of scope and scale. It is a constant challenge trying to find the most suitable candidate to man appropriate positions, to groom them to possibly helm divisions sometime in the future or simply to keep the company operating at maximum efficiency. No matter how automated or technologically-advanced an enterprise becomes, manpower is still required to run those machines; looking for the right people is still therefore of utmost importance.
One Man's Passion
Mr Ronald H S Lee, managing director of PrimeStaff Management Services Pte Ltd, has perfected the art of recruitment by focusing on the crux of the issue – people. Beginning his career in a diverse number of industries including property development, banking and information technology, Ronald quickly scaled the competitive corporate ladder to settle into a comfortable and lofty position in a multinational corporation during his early years. However, the call of entrepreneurship beckoned, and Ronald left his sky high perch in 1994 to realise his passion, literally from the ground up.
Today, PrimeStaff has become a leading recruitment powerhouse, providing a comprehensive framework of services that encompasses recruitment, payroll processing, recruitment process outsourcing, training and outplacement services. Its human touch, passion for people and customised approaches have garnered the homegrown firm a growing list of corporate clients as well as potential job candidates, securing both sides of the equation.
For a recruitment firm however, how does Ronald attract and retain his top talents?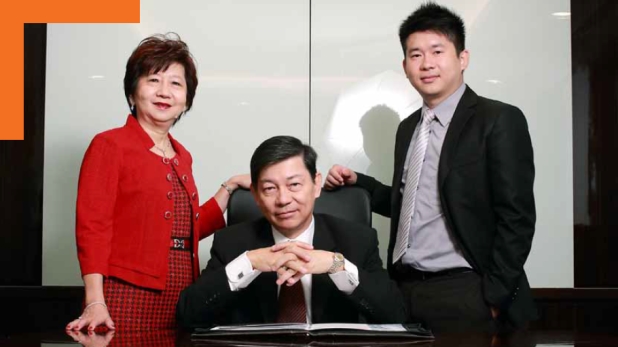 Passion, Integrity, Honesty
"Besides offering a competitive compensation and benefits package, we focus very much on creating a strong corporate culture centred on a family-like environment where everyone genuinely feels like a part of the team," enthuses Ronald, "We try our best to create a culture in which our staff feel that their contributions are valued, and we always seek to create meaning in the workplace via initiatives such as corporate social responsibility activities. Through these, our people feel a greater sense of purpose that goes much deeper than just showing up for work to earn a paycheck."
Ronald looks at three main things when hiring people: passion, integrity and honesty. People, in every sense of the word, are at the core of PrimeStaff's business, be it dealings with candidates, clients or even fellow colleagues. Ronald maintains that his staff must be passionate about people, as they are directly contributing to the betterment of their lives. Integrity and honesty are also key traits, since the nature of the business concerns privileged and confidential information pertaining to both clients and candidates, therefore staff with these qualities are necessary to uphold PrimeStaff's reputation as a value-adding HR service consultancy.
Transcending the Surface
Beyond the generous compensation packages (top consultants can get five-figure commissions) and staff benefits, Ronald strongly believes in going beyond the apparent to retain staff. This philosophy is epitomised in the non-monetary activities he regularly partakes in, undertakings that have a far more powerful effect on staff retention than financial incentives.
Ronald places great emphasis on creating a strong company culture, one that is similar to being a family in PrimeStaff. Everyone feels like a valued, contributing member of the team, and this spirit of teamwork and collaboration is constantly fostered on a daily basis. PrimeStaff's recruitment consultants are split into six different teams to promote greater teamwork and camaraderie during official business, and are further encouraged to bond over informal lunch and dinner gatherings to reinforce the spirit of teamwork. Staff birthday celebrations, though simple affairs, go a long way in bolstering the family-like atmosphere in PrimeStaff. Ronald also takes these bonding sessions to the company-level, organising quarterly outings in addition to PrimeStaff's annual family day, whereby staff and their families are invited to let their hair down as a reward for their hard work, further sustaining and boosting the already substantial collaborative spirit in the company.
His employees are also not kept on a tight leash during office hours. "I strongly believe in empowering my people by giving them the autonomy to make their own decisions on a day-to-day basis," Ronald attests, "Inculcated into the corporate culture is a tendency to refrain from micro-managing subordinates." This expanded breathing room has proven to be an effective practice, leading to greater innovation in the workforce, which is monumentally important for any local company to maintain its competitiveness.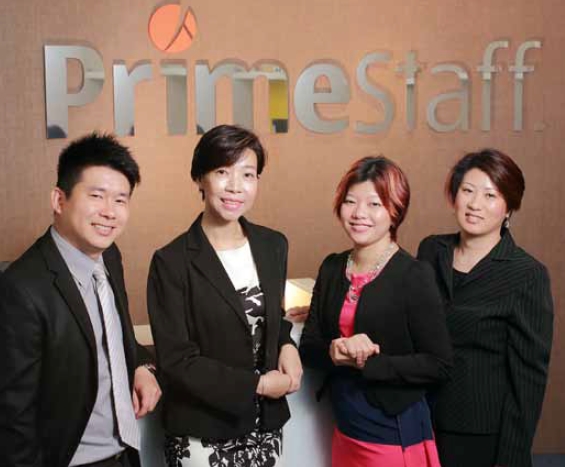 Onward to the Future
One of the end goals for any entrepreneur is to find a suitable successor to the business he has worked so hard to build. It is an important process that needs to be carefully handled, meticulously executed and started early, in order to identify, secure and groom the very best candidate to take over the reins of the company. Rather than fret and panic over his eventual successor, Ronald has embraced it with an open mind but a clear vision.
"Every entrepreneur will face the subject of succession planning one day," remarks Ronald, "I have been preparing for this eventuality over the last few years, by actively grooming several talents to be PrimeStaff's second generation leadership and take over the day-to-day running of the company."
Being in the business of people, Mr Ronald H S Lee makes people his business.