Business Times, Monday, 19th September 2011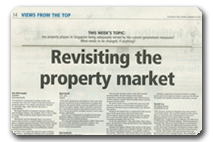 Are property players in Singapore being adequately served by the current government measures?  What needs to be changed, if anything?  Revisiting the property market
The property market in Singapore has always been a hot button issue.  The current measures were put in place to moderate sky rocketing prices that were putting property out of reach of the average Singaporean.  It appeared to be effective as it did serve to cool prices and demand slightly.  While homebuyers welcome this, there are repercussions on developers.
On the one hand, the tightening measures are not to the advantage of property developers as they result in slower movement of units and lower launch prices.
One the other hand, if the government does not prevent prices from soaring further, the probability of a crash increases and that will not bode well for property players either.
The policies on land sales directly impact demand and supply and we certainly do not want a situation of oversupply as it will cool the market too much.
Thus, I believe Redas's suggestion to moderate future land supply by using the reserve list system instead of the confirmed list is a good approach as it would let the market drive demand.
Ronald Lee
Managing Director
PrimeStaff Management Services Pte Ltd