Business Times, Monday, 12th September 2011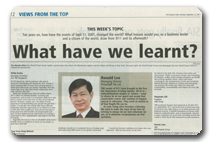 Ten years on, how have the events of Sept 11, 2011, changed the world?  What lessons would you, as a business leader and a citizen of the world, draw from 9/11 and its aftermath?
The events of 9/11 have brought to the fore the importance of being vigilant.  All of us – national/business leaders or citizens – need to always be on our guard and accept that catastrophic events will continue to happen, natural or otherwise.  They serve to remind us of how fragile life can be.
As such, being alive becomes a blessing.  We need to make the most of our lives by striving to always do our best wherever we are, or in whatever circumstances we find ourselves.
Ronald Lee
Managing Director
PrimeStaff Management Services Pte Ltd